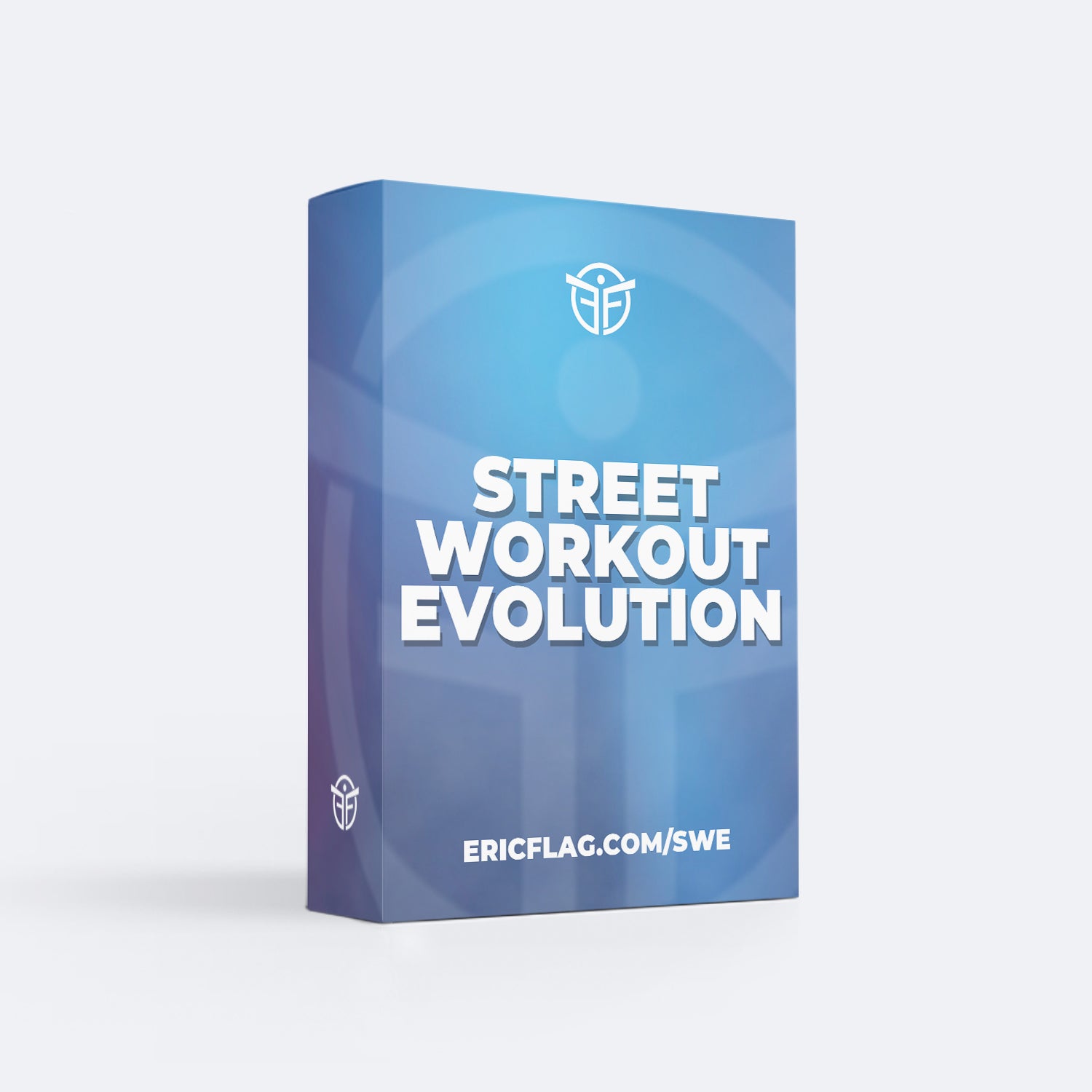 Street Workout Evolution Program
The complete guide to building a solid foundation of strength, muscle mass and performance with just your body weight!
- 5 months of complete routines.
- Master the basics of Street Workout.
- Get your first tricks (L-Sit, etc).
- Lifetime access to program resources.
- Beginner / Intermediate level.
program summary on video :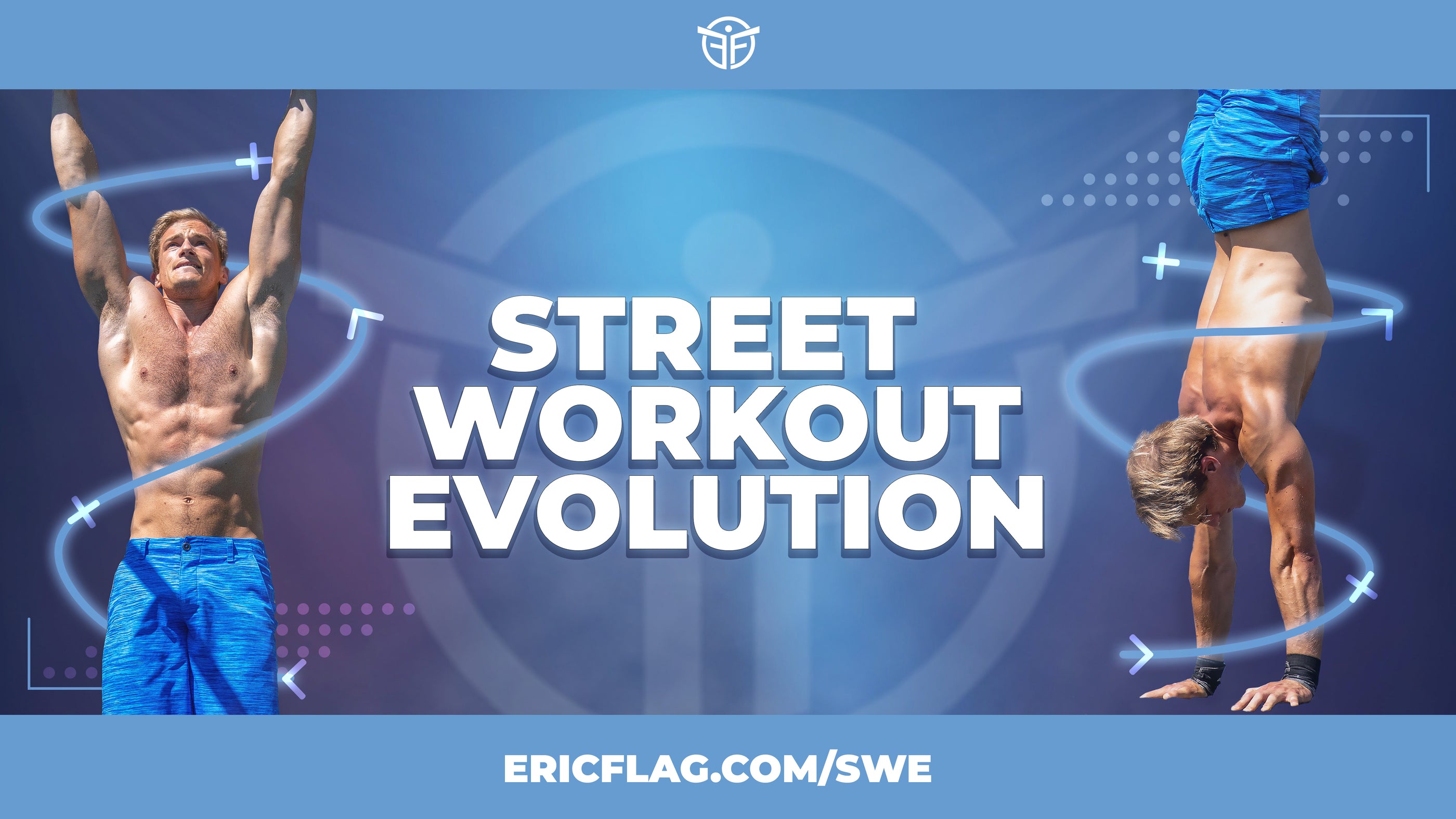 The Street Workout Evolution program in detail:
- 5 months of downloadable, ready-to-use routines, all detailed in video by Eric.
- A starter test to start the program, plus further tests at the end of each month to take it to the next level!
- Complete guides & tutorials for each basic exercise, as well as all the figures. (Muscle Up, Handstand, Pistol Squat, One-Arm Pump, L-Sit, Leg Lifts, Skin The Cat...).
- Adaptable warm-up, stretching, ab work, cardio and more, all on video!
- A complete section dedicated to optimizing your recovery, nutrition, injury prevention and management.
In all, that's more than 5 hours of clear, concise and 100% original videos in the field with Eric, as well as dozens of downloadable files (the routines) and all the explanations in writing too!
+ 2 Exclusive Bonuses:
- A complete training log, to be filled in with your results for each routine.
- Access to the private Street Workout Evolution Facebook group, where all members help and motivate each other, and share their daily workouts.
Although I'm 110% confident in this program, I wouldn't recommend it to everyone and especially not to:

👉 Those who are already able to easily do 10+ Pronation Pull-Ups and 12+ Dips. In this case, Street Workout Evolution 2 will take you much further!
SWE 1 & 2 are also available as a Pack at a reduced price.
👉 Those who are severely overweight, whose sole aim is to lose fat (>10kg) as quickly and effectively as possible, or who are looking for a hyper-detailed guide to nutrition. I'd recommend the Intensive Dry Program.
But just a few extra kilos won't be a problem (we've all got them!).
👉 Those who aren't prepared to free up 45 to 60 minutes of their time at least 2 days a week to train (3-4 sessions a week in the program, but scalable).
👉 Those who insist on using weights for every workout, other than their own body weight (sorry, no weights here!).
👉 Those who are looking for a "zero effort - instant results" method (yes, you might feel it).
To be able to do the program in the best possible conditions, I recommend that you find a way to be able to do high and low pull-ups, as well as dips (access to outdoor, indoor facilities, or with some equipment at home).

Ready to defy gravity together? 😃
Eric
A stronger, more muscular, more aesthetic and, above all, much more functional body.
Joining the Street Workout Evolution program is first and foremost a guarantee of a stronger, more muscular, more aesthetic and, above all, much more functional body.
This program will also help you build a mind of steel, with confidence and self-esteem to match your body and your new abilities. All of which can then be applied to other areas of your life! Not bad, eh?
And let's not forget the admiration in your friends' eyes at the demonstration of control over your body and the new performance levels this program promises you:
👉 More than 12 Tractions, 15 Dips and 25 Perfect Push-Ups in a row
👉 The Muscle Up
👉 The Handstand / Handstand
👉 The One-Leg Squat
👉 The One-Arm Push-Up
👉 The Leg Raises
👉 The L-Sit
👉 The Skin The Cat
And more!
Too easy for you? Discover the Street Workout Evolution 2 !
+ lifelong access to all our resources and to a community of like-minded people who are a source of motivation and mutual support! There are already thousands of us!
More than 5,000 people have already followed the program! 📈 Discover their incredible transformations!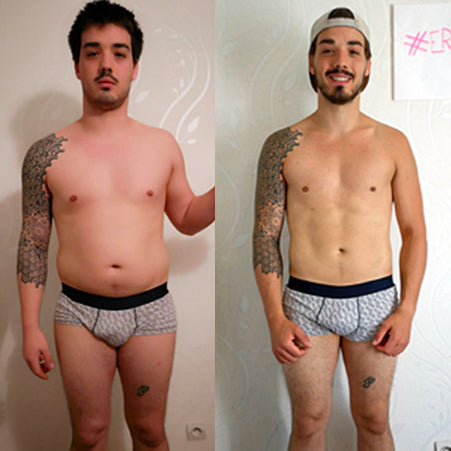 In 11 weeks, Pierre lost 10 kg and saw his waistline shrink by 13 cm.
"I've gone from 3 difficult and not very clean pull-ups to 12 strict (or even more) and even sets of 6 +10kg pull-ups. I used to do just 10 Dips that weren't very clean, now I do 25 that are perfect and even 10 reps with +30kg. As for Squats, I now do over 30 easily and the Pistol Squat goes through too!"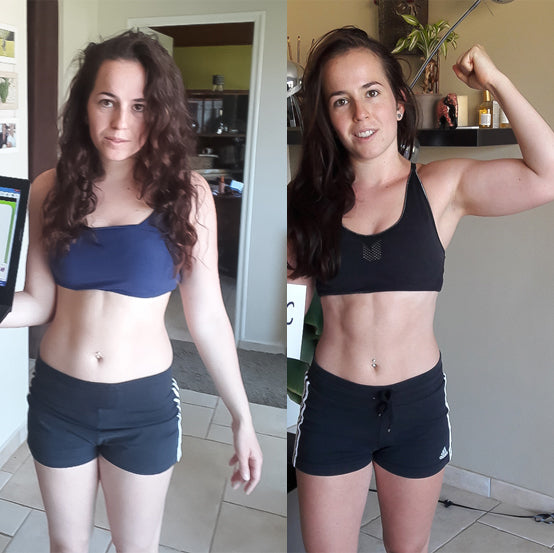 In 10 weeks, Sophie gained 1 kg, but lost 8 cm of waist circumference. Muscle gain and fat loss in one!
- Push-ups: from 11 with a very bad position to 13 clean.
- Dips: from : 6 on benches to 9 real dips
- Pull-ups: from 0 to 3 clean
- Handstand : from 0 to 6 seconds
- Elbow stand: from 0 to 16 seconds
- L-sit release 4 seconds
Do you still have questions?
Here are the answers to the most frequently asked questions:
Yes, this program offers to start from the very beginning for those who need it. Whether you're a man or a woman, whether you already know how to do a pull-up, a pump or not at all, you've come to the right place.

Nevertheless, in the case of a complete beginner or someone who has never done any sport before, you shouldn't expect to "finish" the program in 5 months, but probably have to repeat some of its weeks.
Everything is explained inside, and regular Tests will always let you know exactly when it's time to move up to the next level! 😃
To be able to do the program in the best possible conditions, I recommend that you find a way to do high and low pull-ups, as well as dips. Ideally, this would require access to a high bar, a navel-high bar and parallel bars.
Our Slide Bar or Levitate Bar can help you enormously if you don't have any of these set-ups for pull-ups, and our Dips Bars for parallel bars!
Otherwise, our Gym Rings can be a good option too.
Otherwise, some sessions will also require Elastic bandsDon't panic, solutions for doing without are also detailed in the program.

Otherwise, you can also access free facilities (Street Workout park, sports trails, playgrounds, street furniture, trees...) or paying facilities (Fitness room).
Once you join the program, you get immediate access to all its content. Then you can start whenever you like!
Inside, 5 months of complete routines are provided to get you to fulfill their promises. Of course, this can be shorter or longer depending on your starting point and situation (age, gender, etc.).
How do you say... for life ? You'll have access to all resources, on all devices, forever! The same goes for all future updates, which you'll receive exclusively and free of charge.
Due to the downloadable nature of all the routines, as well as the immediate digital access to 100% of the information contained in the program, it is non-refundable. However, I'm always available to answer any further questions you may have, should you have any doubts about whether it's right for you.
Simply send an email to sav@ericflag.com
The Street Workout Evolution program focuses on progressive bodyweight training routines, with the aim of building strength, muscle and performance.
The nature of this workout is highly conducive to fat loss, and you'll find courses on nutrition fundamentals within the program, but that's not the primary goal.
If you're looking to lose fat as quickly and effectively as possible, I'd recommend the Program Dry Intensive
The Street Workout Evolution program is designed for everyone, regardless of starting level, and promises a good base of muscle strengthening (more than 12 pull-ups, 15 dips and 25 push-ups in a row).
It will also enable you to perform beginner and intermediate-level tricks, such as the Muscle Up, handstand (handstand), single-leg squat, single-arm pump, L-Sit, leg raises and Skin The Cat, to name the main ones.
More advanced figures such as the Back Lever, flag, Front Lever or planche are not covered in this program, but they are in the Program Street Workout Evolution 2 !
For any other questions, you can contact us directly by e-mail at the following address sav@ericflag.com